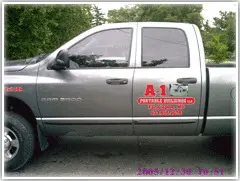 A1 Portable Buildings - Quality Storage Solutions
Established in 2008, A-1 Portable Buildings LLC is dedicated to delivering attractive, high-quality portable storage buildings at an affordable price. Rooted in Mennonite craftsmanship, our structures embody the essence of quality construction and professionalism. We take pride in making your vision our own. Our buildings exemplify the dedication and expertise ingrained in Mennonite heritage. Choose A-1 Portable Buildings for excellence that endures.
Enhance your living space with an elegant A-1 portable building while creating additional storage room for holiday ornaments or that ongoing project car. With solutions tailored to your needs, A-1 Portable Buildings has you covered.
Family-owned & operated, we are committed to offering quality buildings and providing prompt, friendly service. We believe that honesty and integrity must be the foundation on which solid customer relationships are built. By offering a quality product at a fair price, we are striving to earn your business as well!
Frequently Asked Questions
While we prefer to build and deliver a fully assembled project, we can do Build on Site buildings for an additional charge.
Free Delivery, Block, and Level up to 8″ are included up to 50 mi. from any Dealer. However, we go further and just call for a quote!
A compacted-level gravel base is recommended.
Yes, our framing is 16″ O.C.
Thank You for Considering A-1 Portable Buildings!